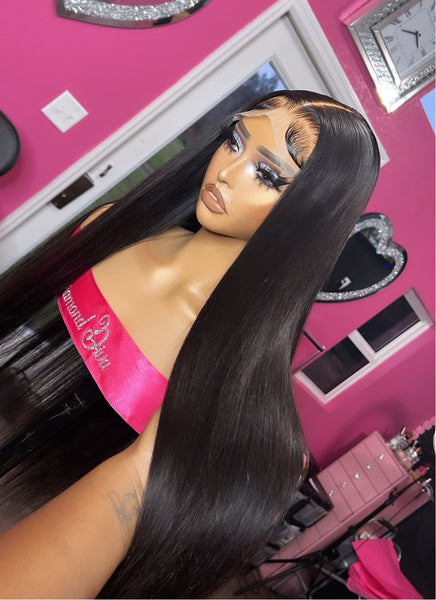 TURNAROUND TIME IS 14-21 Business Days ! & Starts the next Business day after an order is placed . 
These Units are Pre Made (Factory Sewing Machine Made Units) From Our High Quality Virgin Hair Vendor .
All Units Are 180% - 200% Density.
All Laces Are Transparent .
Closure Units Are Size 5x5 .
All units come with adjustable elastic bands for an optional glue less wear and also front , back and side combs .
Please be sure to read each items description before purchasing so that you are fully aware of what it is that you are ordering and are aware of the  turnaround/ processing time for that specific item. 
PAYMENTS:
We accept all major credit / debit cards 
The mailing address attached to the credit or debit card you choose to make your purchase with MUST match the exact same address you wish to have your wig shipped to or the charge will be automatically denied . 
 Acknowledgment form: 
After you make a purchase online you will be sent a confirmation email you must reply with the correct statements acknowledging that you are aware of your purchase or your order will be canceled and refunded.
TURNAROUND TIME:
Please note that All Preorder wigs / custom wigs have a turnaround time of 14-21 business days (we do try to get them out before the 14th day but it is not guaranteed)
If you have an event to attend please feel free to email us BEFORE PURCHASING and we will let you know if your order can be received in that timeframe. 
Once an order is placed NO CHANGES ARE ALLOWED TO BE MADE . 
Each product has detailed descriptions PLEASE READ THEM .
We do not offer any exchanges or refunds on any wig orders or products under any circumstances ! 
Make sure you read each description on each item ! 
Know the turnaround times and understand that every order is completed in the way that they are received . If you have any questions please reach out to us before placing your order ! Thank you .
 NO REFUNDS:
 All sales are FINAL ! Unless there is a mistake on my part no refunds will be issued out to any customers. One you place an order and agree that you have read and understand all of the websites policy's you are agreeing that you accept and understand this . 
Shipping is 1-4 days via UPS or USPS